Meadowdale High School

Only 35,238 Tickets Left !!!!
Linda's Farm is 55 acres, so, there is still room for you! But, we need to know you're coming so we know how many pigs to buy. We're needing a count by June 27th.
Picnic Alert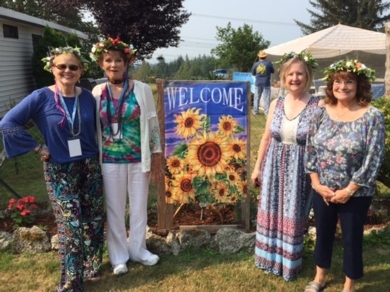 Just look at these sweet Farm Girls. They'll be greeting you at the South Forty Gate, and escorting you up through the cattle chute to the North Pasture, where you'll enter into a literal world of pastoral delight.
Summer Picnic Coming, Saturday Aug 17th
at Linda Churchill's Farm in Snohomish.
We received a good response to the Callathon with 10 or so additional classmates committing to attend. Thank You.
August Picnic - Saturday, August 17th at Linda Churchill's Farm in Snohomish - Festival Seating, 11am - 6pm
Theme - Beach Party / Luau / Island Pig Roast
Costumes - lots of opportunities in these genres, just think of everything you could wear. Don't forget the exotic prizes for costume contest and other category winners. So, don't be shy, come decorated or come as yourself !!!
Food - As advertised, we are going to have a whole pig roasted on site, with all the fixin's and side dishes. Because none of us has to bring anything, there will be a nomimal cost of $ 20.00 each to cover our costs. This is a fantastic value, and you only need to bring what you want to drink. The committee will provide water, plates, utensils, and cups
URGENT - Send your $20 in now !!!!!
Make you check out to; MHS Class of '67
Mail to:
MHS Class of '67
c/o Jeanne Fletcher Ferkingstad
16319 59th Ave. SE
Snohomish, WA 98296
Entertainment - There will be fun and games, and lots of visiting. The highlight of course is the presentation of the best costume awards. Unfortunately, the women of our committee are no longer going to do the floor show. I'm not sure if it has to do with the brawl at the last rehearsal, or maybe a disssent over what roles go to who, or the fact that Kevin Murray is directing it, ... anyway, it's a nogo.
Campfire - There has been some desire that we sit around and talk around the campfire at the end of the day and relate stories about high school. The statute of limitations should have run out by now, so we're all free to freely share.
Whitey's BBQ - 1st St in LaConner - they are providing the roast pig, and have a cute little restaurant / bar in LaConner. If you're up there for the Tulip Festival, or any other time, stop in for lunch or dinner, and tell them you're from Meadowdale High School Class of 1967, ( This Northwest Travel Information is another benefit of being an MHS '67 Grad, no charge.
Welcome to the official MHS Class of 1967 website! The Class of '67 website is for everyone in our Class. You will be able to keep up with friends, send messages to one another, post pictures, etc. on the Message Forum, see the link on the left-side menu bar.
But, you gotta register first, here's how ...
Register
To view Classmate Profiles you must be a registered member of this website and verified by the site administrators. To become registered:
Click Join Here In the Log-in Box on the right-side of this page.

Find and click on Your Name.

Click the giant "Join Here" link, and the registration wizard will launch and walk you through the signup.

Your Classmate Profile & Contact Info

Profiles tell our stories of what we've been doing since high school. It's easy to input your information, or if you need help let us know. Since this is a private site, you must first "join" the site to read other profiles or write your own. Also, we hope you will review and update your Contact Info.

Carefully read through the choices when you complete your profile page; you can select an option to keep your information private for registered classmate users.

Help locate "Missing" Classmates

We need your help to locate "missing" classmates -- those for whom we do not have a current address or email. Please review the list of "Missing Classmates." If you know how to contact any of them, please forward them this website address, or let us know how to contact them.

Have Fun locating old classmates !!! Kevin Murray & Steve Favorite This is a Private Access site. This site will be used to manage our class's information and send info on reunions in the future. Individuals have complete control of their own information that they may choose to include on the site. There are no hidden social networking pitfalls or annoying popups such as you may have encountered or heard of on Facebook, Classmates, etc